Bar Hours: 3 pm - 1:00am
We're not known as the "nicest little bar in Baltimore" for nothing! Our friendly atmosphere coupled with our fine selections of beers, wines, and cocktails make us a stand-out! We offer Happy Hour Monday through Friday from 3 pm to 6 pm, featuring $1.00 off all draft beers, specials every night, and some thoroughly enjoyable theme nights. For our friends who smoke, we have an outdoor, heated smoking area.
Our kitchen specializes in all-fresh items prepared in-house. We offer items for all palates, including delicious vegetarian choices. Kitchen hours are 3pm to 10:30 pm.
Trivia Every Monday!
Join us at the Pint every Monday at 8 pm for friendly competition at trivia.
Join Us For an Art Show!
Bring your friends!
May 7 - June 3:

Jude Asher
"Silent Observer:
Assembled Art by Jude Asher"

Why I do what I do
I can draw, it comes easily to me and I think I do it well. But drawing isn't nearly the challenge of gathering disparate, existing items and melding them into a finished piece of art; a piece with strong design elements, a balance of dark and light, hard and soft, smooth and rough. To create something unique, pleasing to the eye, and challenging to the imagination with items to hand, that takes a huge amount of work for me. Plus there's the struggle with proper adhesives, nails, bolts, the reality of uniting wood, metal, fabric, glass into one cohesive finished product. And, of course, the thrill of the hunt, the joy of discovery, those 'Aha' moments where everything flows into unity, that's the challenge.
Enjoy the art, I assembled it.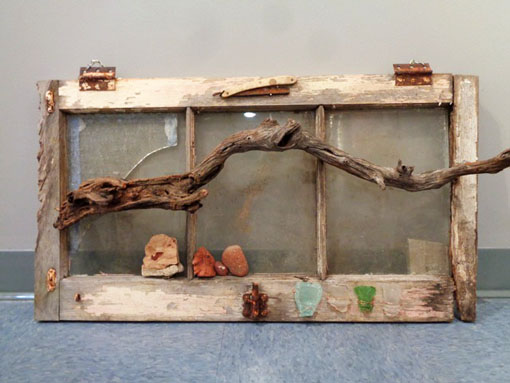 Opening May 7, 6-8 pm
Bring your friends!