Bar Hours: 3 pm - 1:00am
We're not known as the "nicest little bar in Baltimore" for nothing! Our friendly atmosphere coupled with our fine selections of beers, wines, and cocktails make us a stand-out! We offer Happy Hour Monday through Friday from 3 pm to 6 pm, featuring $1.00 off all draft beers, specials every night, and some thoroughly enjoyable theme nights. For our friends who smoke, we have an outdoor, heated smoking area.
Our kitchen specializes in all-fresh items prepared in-house. We offer items for all palates, including delicious vegetarian choices. Kitchen hours are 3pm to 10:30 pm.
Trivia Every Monday!
Join us at the Pint every Monday at 8 pm for friendly competition at trivia.
Join Us For an Art Show!
Bring your friends!
September 10 - October 8:

Kathy Strauss
"Show Some Spine"
Monoprints/Embroidery on Paper

This body of work was pure fun to make, and is to be exhibited in a happy place that is all about fun. I just love thinking about the structure of things under any surface, and I find such joy sharing some of the amazing and amazingly beautiful structures that support our very being, both with folks less schooled in biology and the sciences and with those very well-schooled in these subjects. Often, those well-educated sorts are less appreciative of the raw beauty of the things they study. Mother Nature is the most gifted of artists, and I hope in presenting this work that I can in some modest way show off some of her handiwork.
"Bones"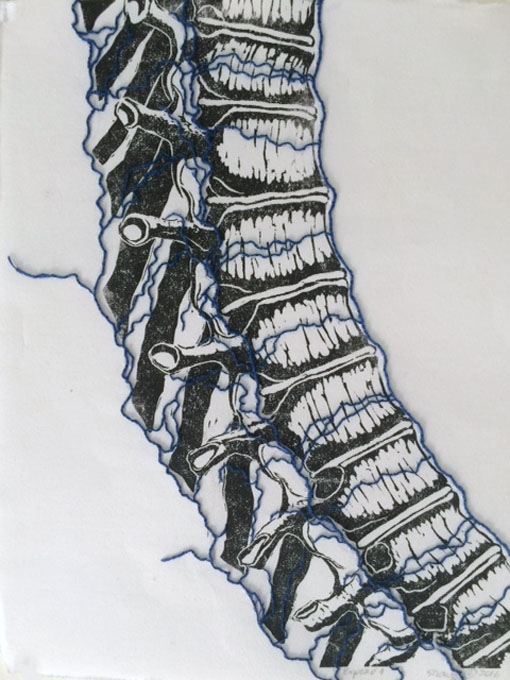 "Exposed"
Opening September 10, 6-8 pm
Bring your friends!